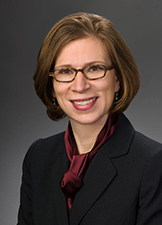 Commissioner
Public Utilities Commission of Ohio
M. Beth Trombold was appointed to the Public Utilities Commission of Ohio (PUCO) in 2013 and reappointed to a second term in 2018.
Commissioner Trombold serves as vice-chair of the PUCO, and alongside the chairman has coordinated the PUCO's PowerForward initiative focused on modernizing the electric grid.
She is a member of the National Association of Regulatory Utilities Commissioners where she serves on the Committee on Energy Resources and the Environment. She is the immediate past president of the Organization of PJM States, Inc., an organization of 14 state commissions in the service area of PJM, the regional transmission operator. Trombold is chair of the Independent State Agencies Committee focused on transmission needs within PJM. She also serves on the Financial Research Institute advisory board at the University of Missouri.
Prior to her appointment, Trombold served as assistant director of the Ohio Development Services Agency (ODSA). A long time public servant, she also served in a variety of roles within the PUCO, including director of Economic Development and Public Affairs. During her career, Commissioner Trombold led legislative efforts on many important utility issues; including: electric restructuring, natural gas choice, and telecommunications reform.
Commissioner Trombold received a bachelor's in business administration from Ohio University and a master's in public policy and management from The Ohio State University. She currently serves on the Glenn College Alumni Society Board. In 2002, the PUCO awarded Trombold the Frank B. Richards Award for Excellence in Management and Public Service. In 2012, she received the Outstanding State Government Alumnus Award from the Voinovich School of Leadership and Public Affairs at Ohio University.
She lives in Columbus with her husband and three children.