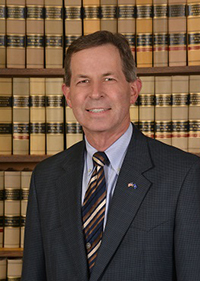 Vice Chairman
Montana Public Service Commission
Brad Johnson was elected to the Public Service Commission in November 2014. Brad believes that safe, reliable, and cost-effective utility services are essential for economic development in Montana. His goal is to ensure utility customers receive the lowest rates possible consistent with high-quality service.
Brad also served as Montana Secretary of State from 2005 to 2009. As Secretary of State, he was committed to maintaining the reliability and security of the voting process. He successfully fought for passage of legislation that prohibited electronic voting machines and requires that paper ballots be used in all Montana elections. Under his leadership, Montana also became one of the first states in the country to fully comply with the 2002 Help America Vote Act, which required states to modernize their election systems.
Prior to serving as secretary of state, Brad was an independent businessman in Bozeman, where he owned an auto parts store. Brad also worked for RightNow Technologies, a successful software company. And in the early Eighties, he served as the District Representative for Congressman Ron Marlenee.
Agriculture is still Montana's number one industry, and Brad's roots in that community run deep. He served as an Agriculture Extension Agent, worked with the American Quarter Horse Association and the American Simmental Association, and earned a Master's Degree in agriculture.
Brad was born in 1951 in Lake Forest, Illinois. He graduated from the University of Illinois in 1976, and moved to Montana in 1980. He currently resides in East Helena with his wife, Linda.