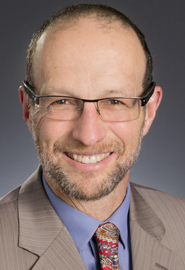 Commissioner
California Public Utilities Commission
Clifford Rechtschaffen was appointed to the California Public Utilities Commission in January 2017.  At the CPUC his key areas of interest include decarbonization, safety, environmental justice, and enforcement.  He is the assigned Commissioner on several safety and emergency response proceedings, the Renewables Portfolio Standard (RPS) proceeding, several proceedings involving biomethane, and the Energy Savings Assistance program that provides efficiency programs for low income consumers. He also has been spearheading several internal agency initiatives, including the development of an Environmental and Social Justice Action Plan with Commissioner Guzman Aceves; the development of a more uniform and formal CPUC enforcement policy with President Picker, and with Commissioner Randolph on the Policy and Governance Committee, an effort to make CPUC proceedings more accessible to the public.  Commissioner Rechtschaffen serves as the CPUC representative on the Low Income Oversight Board and one of two Commissioners on the Senate Bill 350 Disadvantaged Communities Advisory Group.
Prior to joining the CPUC Commissioner Rechtschaffen served as a senior advisor to Governor Brown from 2011 to 2017, where he worked on climate, energy, and environmental issues.  In 2011 he also served as acting director of the California Department of Conservation. Commissioner Rechtschaffen served as a special assistant attorney general in the California Attorney General's Office from 2007 to 2010. From 1993 to 2007, he taught environmental law, directed the environmental law program, and co-founded the Environmental Law and Justice Clinic at Golden Gate University School of Law. In 2005 he was a Fulbright Scholar at the University of Ljubljana in Slovenia. He is the author of several books and numerous articles on environmental law and policy. He was a deputy attorney general in the Environment Section of the California Attorney General's Office from 1986 to 1993, a Reginald Heber Smith Community Lawyer Fellow at the Marin County Legal Aid Foundation from 1985 to 1986, and a law clerk for the Honorable Thelton Henderson, U.S. District Court, Northern District of California, from 1984 to 1985.
Commissioner Rechtschaffen is a graduate of Yale Law School and Princeton University. He lives in Oakland with his wife Karen Kramer. They have two children.