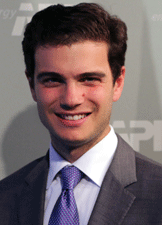 Policy Advisor for Power & Gas
American Petroleum Institute
Jeff Stein is a Policy Advisor in the American Petroleum Institute's Market Development group where he serves as a subject matter expert on natural gas and electricity market issues.
Prior to joining API, Jeff worked in various policy and consulting roles covering energy, economics and foreign affairs.  He holds a Master of Arts in International Relations and Economics from The Johns Hopkins University School of Advanced International Studies (SAIS) and while in graduate school worked with a global energy consulting firm on macroeconomic research and forecasting for clients in the refining sector.  He also previously worked at AIPAC covering economic sanctions, foreign aid, and defense cooperation.  Jeff started his career in Washington, DC at David Gardiner & Associates, an energy policy firm where he worked on federal energy tax and infrastructure legislation.
Jeff lives in Washington, DC and holds an MA from the Johns Hopkins University and a BA from the University of Wisconsin.