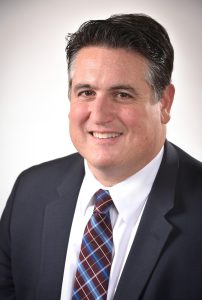 Vice President-Regulatory & Deputy General Counsel
PSEG
Joseph F. Accardo Jr. was named Vice President-Regulatory and Deputy General Counsel in November 2018.
As leader of PSEG's regulatory function, Mr. Accardo oversees the full range of PSEG's state and federal regulatory matters before the New Jersey Board of Public Utilities and the Federal Energy Regulatory Commission. He is the lead attorney for PSEG's regulatory and rate proceedings, and all regulatory compliance matters. He is a member of PSEG's Legal Department leadership team.
Mr. Accardo started his career at PSEG in 2005, and shortly thereafter headed PSEG's labor and employment law practice. He successfully extended his skills and knowledge in the corporate strategy and regulatory areas, and has served in a variety of roles at PSEG with increasing responsibility and scope. Prior to joining PSEG, Mr. Accardo spent ten years in private legal practice in New Jersey.
Mr. Accardo graduated from Seton Hall University School of Law with a Juris Doctorate degree and from Hofstra University with a Bachelor of Arts degree in Political Science. He is admitted to practice in the United States Supreme Court, the United States Court of Appeals for the Fourth Circuit, multiple United States District Courts, and the state courts of New Jersey. He is a member of the Association of Corporate Counsel and the New Jersey State Bar Association.
Mr. Accardo serves on the board of the Boys and Girls Club of Newark, and is chair of its Legal, Human Resources, and Insurance Committee. He also serves on the board of the New Jersey Utilities Association. He joined the FRI Advisory Board in 2022.