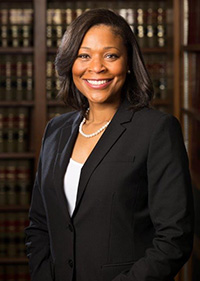 Commissioner
Arkansas Public Service Commission
Kimberly A. O'Guinn of Little Rock was appointed to the Arkansas Public Service Commission in November of 2016.
Commissioner O'Guinn is a member of the National Association of Regulatory Utility Commissioners (NARUC) Committees on Energy Resources and Environment, International Relations, and the Washington Action Program. O'Guinn was appointed to NARUC's Executive Committee and the Board of Directors. In addition, O'Guinn is a board member on the Southwest Power Pool's Regional State Committee where she previously served as president. O'Guinn is Co-Chair of the National Utilities Diversity Council, serves on the board of the Financial Research Institute, and an advisory council member of New Mexico State University Center for Public Utilities.
Prior to joining the Commission, Commissioner O'Guinn served as the Director of Communications for the Arkansas Department of Environmental Quality and a Permitting Engineer in the Office of Air Quality.
Commissioner O'Guinn received a Bachelor of Science in Environmental Engineering from the University of Oklahoma. While attending OU, she was designated a NASA Fellow while working for NASA Space Grant Consortium/NASA EPSCoR.