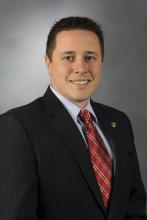 Chairman
Missouri Public Service Commission
Chairman Ryan A. Silvey was appointed to the Missouri Public Service Commission on January 2, 2018. He was unanimously confirmed by the Missouri State Senate on January 4, 2018. Silvey was appointed Chairman on September 17, 2018.
He represents the Missouri Public Service Commission on the Board of Directors for the Organization of MISO States (OMS). Within OMS, he is a member of the Seams Liaison Committee.
Prior to his appointment to the Public Service Commission, Chairman Silvey was a Missouri State Senator, serving the 17th Senatorial District since January 2013. The 17th District is located in the Southwest corner of Clay County, and includes parts of Kansas City, Gladstone, Oaks, Oakwood, Oakwood Park, Oakview, Liberty, Glenaire, Pleasant Valley, Claycomo, North Kansas City, Avondale, Randolph and Birmingham.
While in the Senate, Silvey served as the Chairman of the Committee on Commerce, Consumer Protection, Energy and the Environment, which handled legislation regarding utility regulation. He also served as Vice-Chairman of the Senate Appropriations Committee, as well as Vice-Chairman of the Committee on Governmental Accountability and Fiscal Oversight. Additionally, he served as a member on the Committee for Veterans' Affairs and Health, the Joint Committee on Legislative Research and the Joint Committee on Administrative Rules. Furthermore, he was the Senate Representative on the Missouri Technology Corporation board.