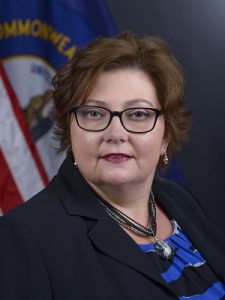 Commissioner
Kentuckyy Public Service Commission
Talina R. Mathews, Ph.D., was appointed to the Kentucky Public Service Commission (PSC) on July 3, 2017. Her term expires June 30, 2021.
Immediately prior to her appointment as commissioner, Dr. Mathews was the executive director of the PSC. She had previously served the PSC as a policy advisor and as staff economist. Commissioner Mathews also has served Kentucky as an economist in the state Office of Energy Policy, as executive director of the Governor's Office of Energy Policy, and in the Department for Energy Development and Independence as director of the Division of Energy Generation, Transmission and Distribution.
In addition to nearly two decades of government service, Commissioner Mathews has worked in the private sector as executive vice-president of Engineering Consulting Services, Inc., of Lexington and as the director of member services and advocacy at the Organization of MISO States. She has held several adjunct teaching positions in economics and public policy.
Commissioner Mathews is a member of the National Association of Utility Regulatory Commissioners (NARUC) and serves on its Committee on Electricity and Committee on Critical Infrastructure. She is on the Board of Directors of the Organization of MISO States and the Organization of PJM States, and is a member of the Southeastern Association of Regulatory Utility Commissioners and the Mid-Atlantic Conference of Regulatory Utilities Commissioners.
Commissioner Mathews earned a Doctor of Philosophy and a Master of Arts in economics from the University of Kentucky. She holds a Bachelor of Arts in economics and mathematics from Berea College.