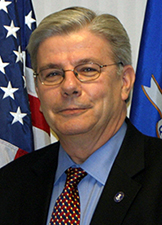 Vice Chairman
Connecticut Public Utilities Regulatory Authority
John "Jack" Betkoski III is Vice Chairman of Connecticut's Public Utilities Regulatory Authority (PURA).
Betkoski has served on Connecticut's utility regulatory authority since 1997 when he was named a Commissioner of the Department of Public Utility Control. He was elected Vice Chairman of that body in 2007. When PURA was established on July 1, 2011 as the state's new regulatory authority, Betkoski was appointed a Director and elected as Vice Chairman of the new authority.
He is the former President of the New England Conference of Public Utilities Commissioners (NECPUC) and is the past immediate President of the National Association of Regulatory Utility Commissioners (NARUC).
In addition to his NECPUC and NARUC responsibilities, Betkoski is currently Chairman of the Connecticut Water Planning Council. Betkoski is also a member of the American Water Works Association Research Foundation's Public Council on Drinking Water Research. He was also a member of the EPA National Drinking Water Advisory Council, serving on its Water Security Working Group.
Betkoski is past Chairman of the Board of Directors for Griffin Hospital in Derby, and serves as Chairman of the Board of Director for the National Multiple Sclerosis Society, Connecticut Chapter. He is on the board of Waterbury Youth Services, and VARCA, Inc. of Derby, a private non-profit agency which provides work opportunities to individuals with special needs. He also is a member of the Advisory Board of The Salvation Army of Waterbury.
Betkoski served as a member of the Connecticut General Assembly, representing the 105th District (Ansonia, Beacon Falls, and Seymour) as a state representative from 1987-1997. He was co-chairman of the legislature's Commerce Committee from 1993 to 1997. His experience in the legislature and in working with issues affecting the underprivileged, through various human service agencies, gives him a unique perspective on the needs of all segments of Connecticut's population.
Betkoski was the Waterbury Salvation Army's Director of Human Services from 1989-1997, and held various administrative positions in human services agencies from 1974-1989. He served on Beacon Falls' Board of Selectmen from 1981-1987 and Board of Finance from 1979-1981. He presently serves as Chairman on the Beacon Falls Economic Development Commission.
Vice Chairman Betkoski was born in Waterbury and is a lifelong resident of Beacon Falls, Connecticut. He received his B.A. from Sacred Heart University, and his M.S. and Sixth Year Diploma in Advanced Studies in Administration and Supervision from Southern Connecticut State University.