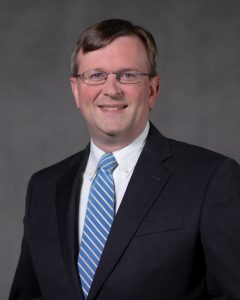 Executive Director
North Carolina Utilities Commission Public Staff
Christopher J. Ayers has served as Executive Director of the North Carolina Utilities Commission Public Staff since July 1, 2013 and currently serves as President of the National Association of State Utility Consumer Advocates (NASUCA).  The Public Staff represents the using and consuming public and investigates electric, gas, water, wastewater, and transportation matters before the North Carolina Utilities Commission.  Prior to joining the Public Staff, he practiced law in Raleigh, North Carolina with the law firm of Poyner Spruill LLP from June 2009 to July 2013 and Hunton & Williams LLP from August 2003 to June 2009.  He served a two-year term on the North Carolina Environmental Management Commission from July 2011 through June 2013.  
Mr. Ayers serves on the Consumer Advocates for the PJM States Board of Directors, Department of Energy Electricity Advisory Committee, Critical Consumer Issues Forum Executive Committee, Financial Research Institute Advisory Board, Keystone Energy Board, New Mexico State University Center for Public Utilities Advisory Council, and is Chairman of the State Employees Credit Union Board of Directors. 
Mr. Ayers earned his undergraduate degree from Duke University and received his Juris Doctor with Honors from the University of North Carolina.  He resides in Apex, North Carolina with his wife Rebecca.