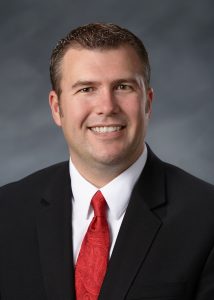 Director of Indiana Electric Regulatory and Rates
CenterPoint Energy
Matt is Director, Indiana Electric Regulatory and Rates at CenterPoint Energy. In this role, he is responsible for the company's electric regulatory and rate matters in southwestern Indiana before the Indiana Utility Regulatory Commission and for the Integrated Resource Plan (IRP). This plan illustrates how CenterPoint Energy will continue to generate and deliver safe, reliable and reasonably priced electricity to its southwestern Indiana customers. Prior to this role, Matt served as Manager of Resource Planning.
Before the merger with CenterPoint Energy, Matt was Director of Research and Energy Technologies for Vectren Corporation in which he was responsible for market research, emerging technologies research and spearheading Vectren's IRP. Before joining Vectren in 2007, Matt served as a Senior Market Research Analyst at American General Finance (now OneMain Financial).
Active in his community, Matt is an advisory board member for the Financial Research Institute and a coach, a board member for the Evansville Homeschool Hornets Archery team and a member of the Evansville Green River Kiwanis. In addition, he has served as the booster club president of the Lorraine Swim Team in Evansville, Indiana for 10 years. Matt is a former president of the Energy Marketing Research Council and former board member for the Mental Health America Vanderburgh County.
Matt earned a bachelor's degree in business administration and a Master of Business Administration from the University of Southern Indiana in Evansville.