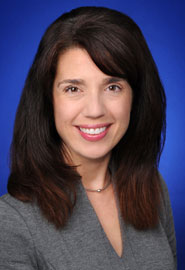 Commissioner
Indiana Utility Regulatory Commission
Sarah Freeman was appointed as Commissioner on Sept. 19, 2016, and was reappointed on December 29, 2017. She is a member of the National Association of Regulatory Utility Commissioners' (NARUC) Committee on Critical Infrastructure and Committee on Telecommunications. She also serves as a member of the Board of Directors for the Organization of PJM States, Inc. (OPSI).
Prior to her appointment, Commissioner Freeman served as a senior staff attorney with the nonpartisan Indiana Legislative Services Agency for 16 years. In that capacity, she drafted utility and transportation legislation and served as counsel to numerous legislative committees. In addition, Commissioner Freeman was a member of the Executive Committee of the National Conference of State Legislatures (NCSL) and the NCSL Task Force on Cybersecurity.
Before joining the legislative branch, Commissioner Freeman served as a deputy attorney general with the Office of the Indiana Attorney General, where she specialized in appellate law, post-conviction relief, and juvenile issues. Commissioner Freeman also served as judicial clerk to the Honorable Frank Sullivan of the Indiana Supreme Court.
A native Hoosier, Commissioner Freeman earned her undergraduate degrees in psychology, French, and political science from Indiana University – Bloomington and her juris doctor degree from the Indiana University Maurer School of Law.