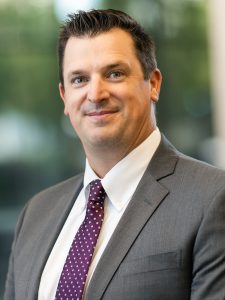 VP of Regulatory and Governmental Affairs
Spire Missouri
Scott Weitzel is the Vice President of Regulatory and Governmental Affairs for Spire Missouri. In this role, he leads regulatory affairs, legislation, government affairs, strategy, policy, advocacy, stakeholder/commission engagement, external affairs, energy efficiency, and rates functions for Spire Missouri. He provides updates on regulatory strategy and governmental matters to the board of directors and leadership council.
Before his current position, Scott served as the Managing Director, regulatory and legislative affairs, Director of Rates and Regulatory Affairs, which focused on advancing the Company's positions on rate recovery, maintaining relationships with regulatory bodies, and other regulatory filings. Scott joined Spire in 2016 as the Manager of Tariffs and Rate Administration. Prior to joining Spire, he worked at Ameren for 10 years, where he spent most of his career in various roles in gas supply. Part of that experience included gas business development, focusing on extensions and acquisitions. After college, he worked as a Gas Marketing Rep/Analyst for CenterPoint Energy.
Scott received a Bachelor of Science degree in Human Environmental Sciences, with a major in Consumer Affairs, a minor in Leadership and Public Service from the University of Missouri – Columbia, and a Master of Business Administration from Webster University in St. Louis.