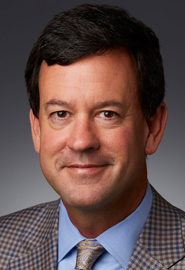 President
Duke Energy Indiana
Stan Pinegar serves as president of Duke Energy's Indiana operations, the state's largest electric utility, serving approximately 820,000 customers in 69 of Indiana's 92 counties. He is responsible for the financial performance of Duke Energy's regulated utilities in Indiana, in addition to managing regulatory affairs, government relations and community affairs. He also has responsibility for advancing the company's legislative and regulatory strategies and integrated resource planning.
Prior to assuming his current position in November 2018, Pinegar served as vice president of government affairs for Duke Energy Indiana. In this role, he was responsible for state government and regulatory policies, strategies and relationships impacting Duke Energy Indiana's interests and those of its customers. This included leading the Indiana legislative affairs team and coordinating regulatory affairs with the executive branch of Indiana government.
Pinegar has more than 20 years of experience leading various trade associations, representing members before the Indiana General Assembly and Indiana regulatory agencies. He joined Duke Energy in July 2012 after eight years in leadership roles, including president and CEO of the Indiana Energy Association. In 2018, Pinegar was appointed by the Indiana Speaker of the House as a member of the Indiana Host Committee for the National Conference of State Legislators' annual conference to be held in Indianapolis in 2020. Pinegar currently serves on the board of directors of the Indiana Legal Foundation and the Indiana Manufacturers Association. He is a member of the Indiana State Bar Association and its Taxation, Utility and Environmental Law sections. He is a member and past president of the Governmental Affairs Society of Indiana. Pinegar was appointed a Sagamore of the Wabash by Govs. Evan Bayh and Mike Pence and recognized as a Champion of Diversity by the Indiana Energy Association's Supplier Diversity Committee. He was awarded Zionsville Little League's highest honor in 2013 in recognition of his 15 years of volunteer service and leadership.
Pinegar earned a bachelor's degree from Indiana University and a Juris Doctor from Indiana University McKinney School of Law in Indianapolis. He is a graduate of Duke Energy's Strategic Leadership Program and currently serves as executive sponsor of Duke Energy Indiana's Leadership Development Network.