April 28, 2022
FRI has selected John E. "Butch" Howard as recipient of the 2022 Crystal Award for Distinguished Service.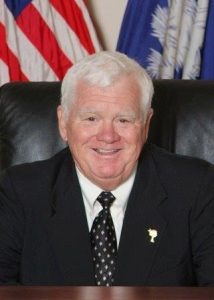 John E. "Butch" Howard was a member of the South Carolina Public Service Commission (SC PSC) for sixteen years, as well as an active participant in the National Association of Regulated Utility Commissioners (NARUC) and several other regulatory education and research organizations.
Howard started his regulatory journey when he was elected to the SC PSC in 2004. He served on the PSC until 2020. He was elected as Co-Chairman to the commission in 2008 and Chairman in 2010.
During Howard's entire tenure at the SC PSC, he was extremely active in NARUC and served two terms on the Board of Directors, a member and Chairman of the Committee on Water, a member and Chairman of the Subcommittee on Education and Research. He also served on the Clean Coal Committee and the International Relations Committee. Howard was well-known for often taking the opportunity during his terms as vice chair and chair of NARUC committees to promote new programming ideas; platforms of education for cutting-edge technological topics; diversity in panelist participation; member recruitment; and mentoring commissioners to assist their development into skilled panelists and moderators.
Upon joining the SC PSC, Howard immersed himself in the regional activities of the Southeastern Association of Regulatory Commissioners as well as NARUC. During Howard's NARUC tenure he became actively involved and instrumental in NARUC's Eastern and Western Utility Rate Schools. Under his leadership, he marshalled forces to improve content development for the school's agendas; attracted talented faculty; and expanded the course offerings. As chair of the NARUC Education & Outreach Committee, Howard maintained and upgraded the quality of NARUC programs, restored profitability to program offerings to ensure the sustainability of those programs; improved new-Commissioner orientation programs across the country; and established competitive scholarships for individual state commission staffers.
He has participated in NARUC Regulatory Studies Program (Camp NARUC), Institute of Regulatory Law and Economics, National Judicial College, a member of the Water Research Foundations' Public Council on Drinking Water Research, and Department of Homeland Security's Water Sector Government Coordinating Council.
Howard was an active member of the University of Missouri's Financial Research Institute (FRI) Advisory Board for five years. During his time on the FRI Advisory Board, Howard was instrumental with board growth, helping to expand FRI's presence around the US. He currently serves as a member of the New Mexico State University's Center for Public Utilities Current Issues Advisory Council.
After his retirement from the SC PSC, he started Howard Connections, a consulting company dealing mainly in state regulatory and policy issues.
Howard is a graduate of the University of South Carolina with a Bachelor of Science degree. He currently resides in Moncks Corner, SC, with his wife Pat and his dog Cocoa.
The FRI Crystal Award was created to recognize an individual who has made outstanding and sustained contributions to the design, implementation or analysis of public utility regulatory policy. The award is presented annually during the FRI Public Utility Symposium. This year's official award is sponsored by the Natural Resources Defense Council.