August 11, 2021
Written by Robert F. Powelson, President & CEO of National Association of Water Companies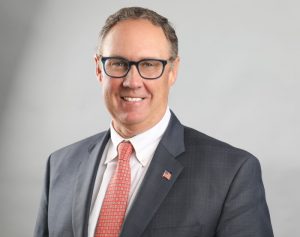 With infrastructure taking the spotlight in Washington since January and COVID-19's ongoing impact, there's certainly been a renewed focus on the essential role water service plays in protecting public health — and rightfully so. At the same time, the pandemic's economic impact and increased attention paid to equity has sharpened focus on ensuring customers can afford their water bills.
To date, these dual realities– the need for investment and the desire to keep rates low – has created a false choice narrative around the idea of water as a human right. We've been led to believe that if we want to resolve issues involving access to water, we have to first and foremost prioritize keeping rates low, even when it may lead to some dire outcomes.
When we focus solely on affordability as the determining factor of whether or not water services are equally accessible for low-income communities, we fail to account for the need to have high quality water be accessible to all.
The solution is to focus on advancing true water equity, and that is what NAWC and our member companies have done over the past year. We have worked to develop Water Equity Principles to ensure we're working toward not only a world where  everyone has access to water, but a world where everyone has access to water that is safe and reliable as well as affordable. 
What good is cheap water if you can't drink it and you need to spend money to buy bottled water? What good is cheap water if it isn't there when you need it? 
We believe all communities should be able to access water whenever they need it and that that water should be safe in that it complies with the US Environmental Protection Agency regulations and Safe Drinking Water Act standards. Water service should also be affordable in that customers are able to pay for this essential service and that there is adequate assistance to ensure the water stays on for those who struggle to pay.
​​While the path to achieving water equity is complex, NAWC members are committed to working with customers, regulators and local leaders to advance water equity by offering solutions that adhere to five principles.
There are three equally important components to water equity – safety, reliability and affordability. As a nation, we must advance water equity to ensure customers in every community of all income levels have access to high-quality water.
Never compromise on providing safe and reliable water. Solely focusing on the cost of the bill does not tell a complete picture of what it takes to provide the water service that customers want and deserve. While it is important for water bills to be affordable, water providers cannot compromise on treating water or investing in the infrastructure to deliver the water, because if they do, the safe and reliable components of water equity will suffer.
 
A lack of investment due to artificially low rates compromises water quality and perpetuates environmental injustice by disproportionately harming those in vulnerable communities who then must pay out of pocket for bottled water.
Focus on the customer. Affordability challenges can arise for many reasons and the needs of each customer and each community are unique. It is incumbent that all stakeholders work together to achieve policies that ensure struggling customers have access to utility services, while not overlooking safety and reliability. NAWC members employ a wide variety of tools to help struggling customers by offering customer assistance and conservation programs, in addition to working with state and federal policymakers to ensure there are clearly defined laws around rate-funded assistance and ample effort to ensure customers are consistently made aware of their payment and assistance options.
 
NAWC also works hard to promote progressive regulatory and legislative initiatives that support water equity. While studies have shown that water rates are broadly affordable, there are some people who struggle. A permanent federal assistance program would ensure there is a safety net for low-income households.

The introduction of the Low-Income Household Water Assistance Program (LIHWAP) this year was a critical first step in the right direction. However, this program is temporary and needs to be adopted as a permanent program, inclusive of all water utilities and funded at a level commensurate with energy assistance programs.

Additionally, NAWC advocates for consolidated rates and consolidated revenue requirements for water and wastewater systems at the state level, both of which help keep rates affordable while still maintaining the fiscal sustainability of utilities.
Expand access to high-quality water systems through partnerships and consolidation. Fragmentation is a huge issue in our country's water grid. There are approximately 50,000 water systems across the country. More than half serve fewer than 500 customers and more than 90% serve fewer than 10,000 customers.
 
Without economies of scale, many small systems are unable to invest in infrastructure, deploy new technology, address affordability issues and treat emerging contaminants. Overall, America's water system fragmentation increases costs and decreases water quality, perpetuating environmental injustice and causing disproportionate harm to low-income communities.

Experts agree that partnerships and system consolidation are critical means of expanding access to safe and reliable water across the nation. Partnering with a larger, more experienced system is a proven way for smaller or struggling systems to obtain the resources necessary to maintain a healthy system and provide customers with safe and reliable water at stable prices.

Earlier this year, NAWC worked with the National Association of Regulated Utility Commissioners (NARUC) to convene a two-day workshop focused on affordability. Keynote speaker, Dr. Manuel "Manny" Teodoro, of the Robert M La Follette School of Public Affairs at the University of Wisconsin, presented ideas about how to address affordability challenges and offered some policy concepts to explore including consolidation and single tariff pricing.

Because smaller systems have on average higher prices and lower quality, encouraging consolidation and single tariff pricing would offer promising results, lowering average costs and increasing financial stability for utilities.
Invest in communities. Many of the pipes and water mains in this country are reaching the end of their useful lives and need to be replaced. Incremental and consistent investment in infrastructure allows those costs to be incurred gradually, meaning they are more easily budgeted-for both utilities and customers.
 
For context, the 10 largest NAWC companies invest nearly $3.7 billion in their water systems annually. These investments keep rates stable and quality high — lifting up communities where they live, work and serve, while creating long-lasting positive change and promoting public health.

Why We Should Have Hope and Confidence
Unfortunately, access to clean, safe and reliable water was a prolific source of inequality before the pandemic and remains a public health crisis today. However, as infrastructure negotiations continue to unfold in Washington and as we recover from the pandemic, we can't lose sight of the greater appreciation we've all gained for the water sector's role in helping others and serving our communities.
As an industry, NAWC members know that we have an outsized role to play in achieving water equity and we are committed to doing our part as we continue to focus on our customers and their financial situations.
The obstacles we face now on the path to water equity are very real. But with the water sector, government, and communities all working together, we are confident we can expand access for all to safe, reliable and affordable water. And if we can all work together to do just that, we'll have healthier communities and a more just distribution of life's most essential utility. This progress starts and ends with a commitment to advancing water equity.
---
Robert F. Powelson is President & CEO National Association of Water Companies (NAWC) and formerly a Federal Energy Regulatory Commissioner (FERC) and Chairman of the Pennsylvania Public Utilities Commission. Mr Powelson was the 2019 recipient of the FRI Crystal Award for Distinguished Contribution. POV pieces are the opinion of the author and do not necessarily reflect an official position of FRI or the University of Missouri.